The Custom Pro MP575 pump is a great choice for powering fountains, bubblers, small water features and small ponds. The compact size makes it ideal for fitting into tight spaces and helps make overwintering of water features that much easier. This pump measures 2.91" wide x 4.41" long x 3.82" tall and has a max output of 575 GPH.
The dial on the intake of the pump can be turned to allow for flow adjustments, to help achieve the perfect flow rate for your fountain or water feature. The Custom Pro MP575 operates on standard 115v current and is rated at only 44 watts, making it very energy efficient. Included fittings allow you to adapt to 1/2", 5/8" and 3/4" ID tubing. The MP575 has a 13 ft. long power cord and a 1-year manufacturers warranty.
You can find a replacement impeller as EasyPro part number MP575I, and a replacement cover as part number MP575C.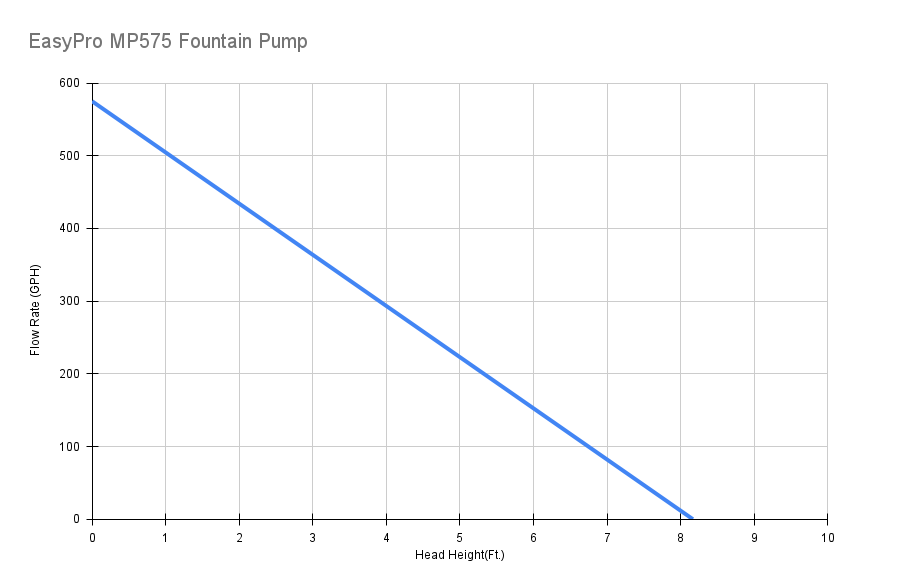 | Model | Max Flow Rate | Max Head Height | Wattage | Voltage | Included Fittings | Dimensions |
| --- | --- | --- | --- | --- | --- | --- |
| MP575 | 575 gph | 98" | 44 Watts | 120V | 1/2", 5/8", 3/4" | 4.4" x 2.9" x 3.8" |